ALDO's first creation 
'Close To You' 
contains a light and mellow blend of acoustic and nylon string guitars accompanied by some slow grooves, textures, and natural sounds aimed at relaxing listeners.
'Close To You'
 continues to receive 5 star ratings, the song 'Silent Star' received US national radio play on the syndicated radio program 'Echoes' and 'Silent Star' video featured on Youtube has been viewed 2,240,000+ times and still climbing, the music from "Close To You" continues to receive air play on a variety of Internet radio stations, International satellite radio, and public radio stations within the US and abroad.
All music written and performed by ALDO
Recorded and produced by ALDO
Mastered by JOHN VESTMAN 
johnvestman.com
Artwork by CLEM DAVINCI 
getadavinci.com
The music from 
'Close To You'
 can also be found on compilation CDs, Three songs from 'Close To You' ('The Dance', 'Holding You Soul', 'Angelina') are featured on Medhi's 2005 release called "Passion", Volume 1 by Soothing Music Inc., Three songs from 'Close To You' ('Close To You', 'Endless Tide', 'The Dance') are featured on Coldwater Creek's The SPA 2008 release called 'vitalize'.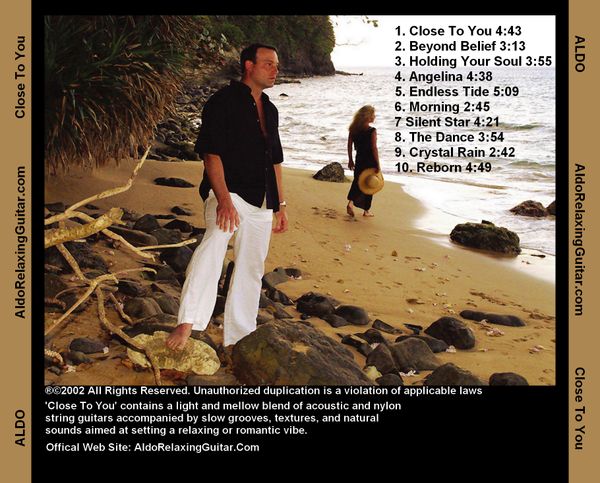 Discography Information:
Artist: ALDO
Title: 
Close To You
Release Date: August 2003
Total Play Time: 40:37
Label: Silent Star Enterprises, Inc.
UPC Code: 887936698941
 Catalog#: SSE100
Copyright: 2002
Performing Rights Organizations: BMI
ALDO Physical Retailer Information
Personal Music Reviews
"The greatest gifts I have received since releasing 'Close To You' would be reading the 
personal stories
 you have shared with me indicating the positive impact my music brings to your life, I also enjoy the many 
five star fan reviews
 indicating my music stays relevant within your immediate listening collection, can be listened to within a variety situations, and sets a very relaxing vibe. For those of you just being exposed to my music I welcome you and sincerely hope you enjoy my positive original relaxing instrumental guitar music!" Ciao, ALDO
***** 5 Star Rating: Amazing
Reviewer: Jorge Varela from Huntington Park, CA
You Music is Amazing. No matter how my day was I can always listen to your music to fit the mood. I recommend your music to every one I can possibly tell. All which agree with me;You have out standing talent. I envy you so much because of this. I only hope to play like you one day. I can't wait for you next album "Together Again", I know it will be something worth the wait.
***** 5 Star Rating: Romance with The Light
Reviewer: Svetlana Sheridan from TX
Awesome website! It's very artistic and creative, professional and informative! Fantastic design and choice of colors, amazing cover's Art! Traditional and modern! I'm under deep impression of your most beautiful music and excellent guitar playing! It's highly emotional and touching, romantic and relaxing! My absolute favorite is a Masterpiece "Silent Star"! All original compositions are brilliant and cultural! Waves of melodies, emotions, and passions arise and flow through you. I bind myself with the song and become as one with gentle breezes, echoes and relaxing meditative sounds. I love the emotion and dreaming transparency of your unique music! Very original song structure and concept as a whole, it unites Classical, Spiritual and New Age styles. When the silver strings are playing...the highest graces of music flow from the feelings of the Heart! ALDO, Special Thanks for your beautiful uplifting instrumental "Together Again". It's a generous gift! I love your first CD "Close to You" and looking forward for a new release CD entitled "Together Again". Bravo to your amazing talents! Sincerely, Svetlana.
***** 5 Star Rating: Magical, Moving, Work of Art
Reviewer: Deb Gunther
This is some of the most beautiful, uplifting music I've ever heard. It lifts you up and takes you to beautiful exotic places, giving you such a feeling of peaceful serenity, breathtaking moments in time!! The most haunting guitar styles I have heard in many a year, this young artist truly knows how to keep you in tune for every note, some of the most electrifying, captivating classical music I have ever enjoyed. Thank you "Aldo" for working your magic so very well, much continued success to you!!
More Fan Listener Reviews For ALDO's Music
Read Honest Personal Experience Related Stories
Professional Music Review
ALDO Physical Retailer Information
Inspiring Stories
Dearest Aldo, A few months back, I was going through chemo. Every day when I was done, I ran on the treadmill to keep my mind off of my life. When I first heard your music, I thought it was an angel coming to take me to heaven. But then I realized that life was worth living and then the cancer left. I am truly blessed to have you in my life Aldo. Keep making music- the more you write, the more inspiration will spread throughout the world- which is something we all need in these trying times Love, Hank Y. NYC, New York
Hello Aldo, I have just come across your site and have totally fallen in love with your playing, can you please tell me if I can get your CD's in Nova Scotia Canada, Halifax or Dartmouth, I listen to this lovely relaxing music to help me with chronic pain and it is also a format for me to do light exercise, I am so taken with it hope you will be kind enough to reply, Thank you for your kindness in this matter, Helen H.(Second Reply Email) Hi ALDO, I sent your site out to all my friends in Canada and the U.S.A., every one loves your music it is my hope that you will be able to get more orders from this as it is so very pleasing and relaxing, thank you for being so understanding hope to hear from you soon for your next CD, Thanks again, Helen
(Third Reply Email) Hi Aldo, I have listen to your lovely CD all day over and over again, I love it and I will be playing it tonight as I go to sleep as I play lovely music each and every night it is so soothing to me and I just put it on repeat I do not sleep well about thirty -fourty five minutes at a time so it is lovely to wake up to such relaxing music, please be sure to let me know when you have your next one ready as I want to buy it, You have been given a great gift, never give it up....
Thank you for such lovely music, God bless, Helen
Click Here For More Inspiring Stories
ALDO Physical Retailer Information
ALDO Relaxing Guitar Music Contact Form